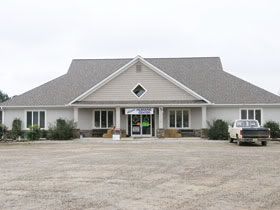 Welcome to Madison-Oglethorpe Animal Shelter, better known as MOAS.  We have been in existence since 2002.  To read a complete history of how we got started, see History of MOAS.
MOAS was originally conceived as a solution to the stray animal population in Madison and Oglethorpe counties.  Our mission is to save as many pets as possible while reducing the unwanted population through a low cost spay and neuter program operated out of the shelter.
We are under contract with the two counties to accept all stray and unwanted pets from residents of the counties.  In return, we are paid $3 per taxpayer per year.  Madison County pays based on the population count from the current 2010 census, having just changed this year from using the 2000 census called out in the original contract signed ten years ago.
MOAS is solely responsible for running the shelter and relies on a volunteer Board of Directors to set shelter policy and to do fundraising.  A shelter manager, Tracy Gilmore hired this year, is responsible for carrying out those policies and running the shelter on a day to day basis.  Tracy, along with the shelter staff, is also responsible for making euthanasia decisions.  No one wants to put pets down, and the "ideal" shelter situation would be a "No-Kill" shelter. To understand the real difference between a "No-Kill" and a "Kill" shelter please see No-Kill vs. Kill.
We take our mission to save as many pets as possible very seriously.  A surgery schedule that is so full that we're scheduling three weeks out helps to ensure hundreds fewer unwanted animals. The days when emails go out with uplifting news make the hard days worthwhile.  
Days when an email goes out that says
...a dog that has been in the shelter for 9 months went to a foster home where she'll get lots of individual attention and won't be confined to a run
...a big black dog got adopted today - traditionally one of the most overlooked in shelters
...teenaged puppies got to play in Kmart kiddie pools and loved it
...we adopted 7 pets out TODAY
One especially heartwarming day was when we put a call out for help to raise money for a dog's specialized surgery. We met the goal in 8 days and exceeded the goal by so much that we were able to start a Guardian Angel Fund.
We, and very much with your assistance, are making a DIFFERENCE in the lives of these precious animals.
So come out to the shelter and adopt a great pet. Or if your home is full but your heart still has some room, come out and volunteer. Dogs who haven't been out of their runs in a while would dearly love a romp in the exercise yard.  Giving someone a bath and pedicure is always welcomed, or just come pull some weeds. Any assistance is always appreciated by the staff and especially the animals!
Sincerely,
MOAS